krix factory upgrades
Krix, Australia's oldest and largest speaker manufacturer, and still proudly family owned and operated, has seen significant growth over the last 2 years, in both commercial cinema and residential conema and audio. With significant expansion through Europe, Middle East and Asia, as well as great growth in their home market of Australia, production has been stretched.
So, it's time to expand production with the addition of a new 5 Axis CNC machine, as well as improved factory ventilation systems to ensure that the factory can keep running smoothly and efficiently and get your orders out in a timely manner!
Since inception in 1974, the Krix brothers have strived to be the best speaker manufacturer on earth, and this has meant continuous investment in R&D, as well as factory expansions, and new warehousing facilities. Lucky they bought a premesis with room for the expansion all those years ago ;-)
COVID has been tough for so many businesses, and Krix weren't amune to tough times but the rebound was swift and strong, thanks to a host of great new distributors across Europe and Middle east in particular, and the steady growth of the Asian and home markets!
Krix plan to have production back to full speed by the middle of August, to ensure plenty of stock for the Christmas rush!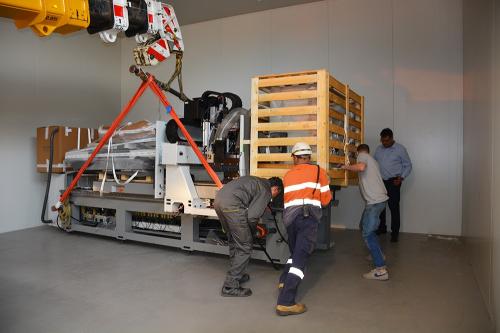 Engineers lowering the 5 Axis CNC Machine into place in the custom built enclosure